Today we feature Dr Kai Win, first-team doctor, as she shares her story of making sure Bruno Lage's players are fit and healthy so they can perform to their best every day, as well as getting those who find themselves on the treatment table back out onto the pitch as quickly as possible.
Kai swapped blue and white for gold and black in September 2021 when she moved from Birmingham City, where she had progressed through the Academy ranks to become chief medical officer, to join a revamped performance-medical department at Compton Park, which has been transformed since the summer.
Career journey
"I come from Burma – now known as Myanmar – and I completed my primary medical training back home, before completing my post-grad over here. Initially, I wanted to be a heart specialist, but half-way through my training, I realised that I didn't like it, so I changed my career and fell into sport and exercise medicine.
"I have since worked in a lot of different sports, like athletics, hockey, swimming, volleyball and netball and I am proud to be a part of London 2021 Olympics medical team.
"But ever since I was little, I always loved football, and when I started out as a sports physician, I really wanted to get into football. Birmingham City gave me the first opportunity that I will forever be grateful. I started in the academy and progressed to the chief medical officer role. I love the people, the club, who will always be in my heart. I also worked for England football for almost 10 years.
"Like everyone in football, I wanted to work in the Premier League and when the opportunity came knocking, I could not say no. I am here now, and I am loving every single minute of it."
Diversity in football
"Being in the medical profession or being a doctor, I think it is easier to integrate into the team and the role. My gender didn't matter much, all that mattered was that I could do a very good job in my role.
"That said, I did have insecurities. I would wonder if I would fit in, if I would be accepted and if I would make anybody uncomfortable. But at the same time, I realise we all come from diverse backgrounds. It could be male or female, different ethnicities, different racial backgrounds or religions. Football clubs are some of the most diverse places you can work.
"And I truly believe, everybody is unique, and every single person has something very special to offer, and having that diversity makes the organisation and the pack stronger."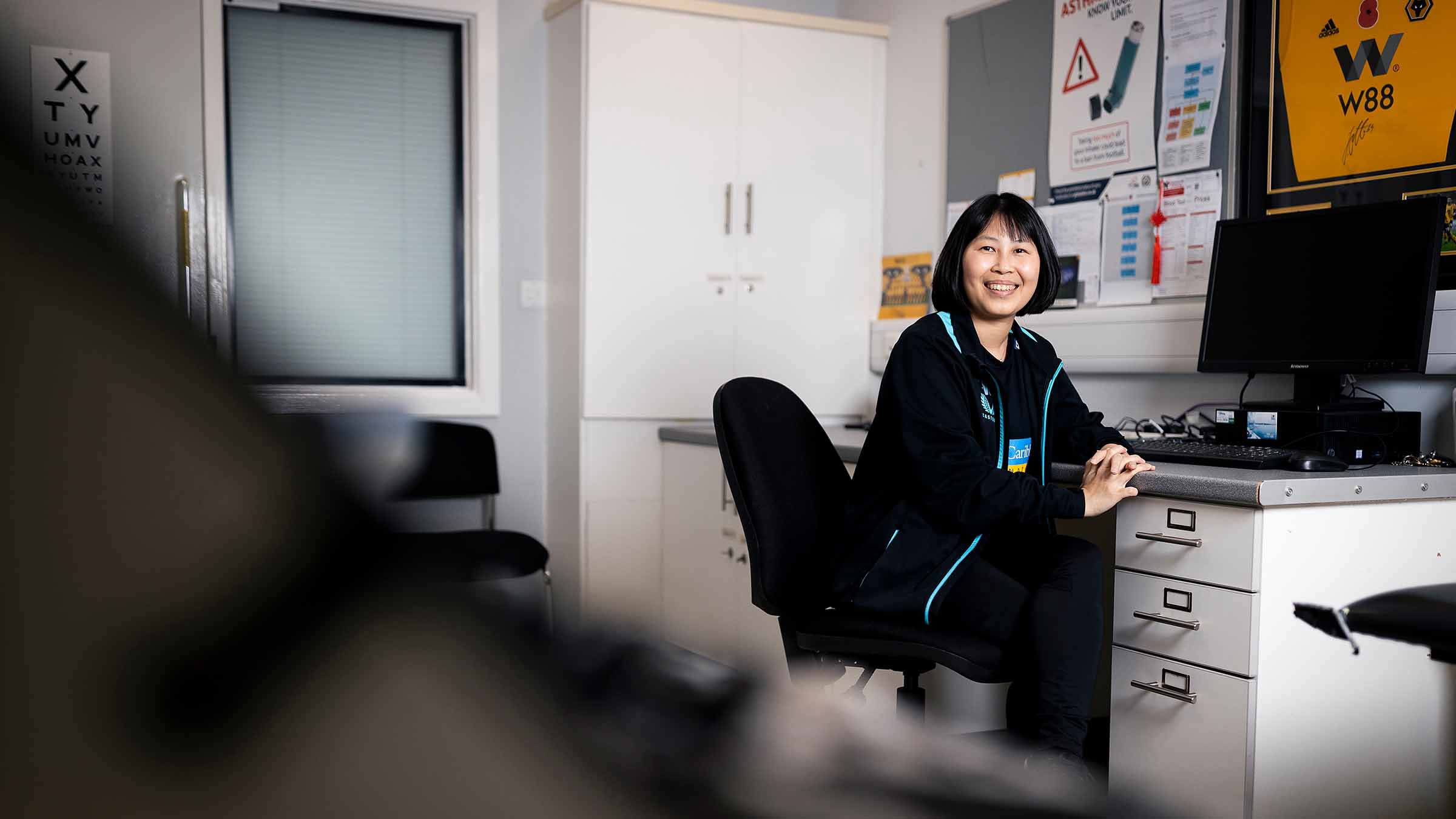 Joining Wolves
"I worked with Rob [Chakraverty, Wolves' head of performance and medicine] for four years while we were working for The FA with England. I always wanted to work with Rob again, and when there was this opportunity, I jumped at it.
"I feel there is a very special group of people here, all the players and staff, it feels like everybody is really close like a pack of Wolves trying to go on a special journey together. It's been amazing working here for Wolves. I'm not going to lie, the first time I came here, I felt a bit of pressure coming into a Premier League football club with a lot of high-profile players.
"I came in when the season had already started, around mid-September. If I'd have started at the beginning of the season, I think that would've been easier because you would have more time to get to know everyone on the team. But when you come in the middle of the season, you've got to be able to adapt very quickly.
"I feel really well supported. All the players and staff are amazing. At Wolves, we have the values of progressive, determined, humble, bright and unity, and you see with all the players how they show such humbleness and they are always learning and progressing, and I was really amazed how everyone here matched those values, but the way I was welcomed into the club made me really proud to be part of the team here at Wolves."
Facing up to stereotypes
"I think we've got to own who we are. I come from an Asian background, I'm a woman and I'm also quite a small and petite person. I look and I am different to other people here. That makes us all unique, and we have got to own it and embrace it.
"We can't control what other people think about us or what other people do. All we can focus on is what we can control, and that is being as good as we can be. Just be who we are and make sure we are at our best self and improving every single day. We are all here for a reason and if we try our best every single day and deliver, then that's all that matters.
"I've not experienced any issues regarding my gender at Wolves. It's absolutely amazing here and ever since the first day everyone has been great with me. I cannot praise the players and the staff enough for how welcoming they are.
"I don't think I've ever felt out of place or felt that I don't belong here just because I'm a woman. I don't feel like they see me as 'a female doctor', I feel like I'm seen as 'a doctor'. The way they have welcomed me and made me part of their journey. I feel like I'm really part of the pack here."